Learn more about our business
Grandchamp Structure Design
Grandchamp is a leading design and manufacturing company that creates custom tents and structures in North America. We combine 35 years of experience with the latest technology to build the strongest and safest tent in the industry.
Always thinking ahead, we keep researching and developing. Our R&D department as always been able to exceed our clients expectations and projects. Rapid growth has been achievable because we find solutions to anomalies.
Everywhere in North America
Grandchamp has offices in Montreal and Boston and develops marquees across North America.
Position ourselves as the largest structure tent manufacturing and export company
To become the biggest tents and structures rental, manufacturing and export company in Canada and to take on the challenges in a creative way, we must have a solid foundation. That is why every employee join the Lean Management philosophy. This facilitates collaboration and creates an dynamic environment.
Whether is in R&D, production or even installations, every employee works togheter for a common goal : continuous improvement of the product we offer and of the work environment.
By working in a well organized and clean environment, the philosophy behind the Lean Management enhances employee's mobilization. In doing so, they can focus better bring the 4 values of the company to life. Those values are :
Innovation
Solidity
Efficiency
Professionalism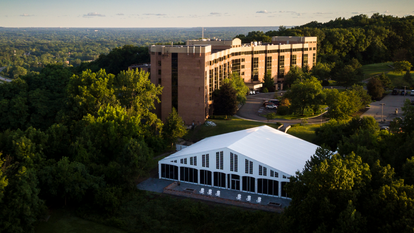 Grandchamp Structure Design
A North American industry leader since 1985, Grandchamp has continued to adapt to the ever-changing market.
The company established its reputation for excellence through its tent rental service, providing premium-quality structures for corporate events, weddings and private functions. Continuing to search out new possibilities in the market, Grandchamp quickly identified the need for a second division specialized in manufacturing structure tents.
The result was Grandchamp Structure Design, a company specialized in manufacturing four-season tents. The company can now offer specialized tents that are much more versatile, without compromising on functionality and structural stability standards. Grandchamp Structure Design manufactures tents suitable for all types of terrain, and that can also stand up to the country's varied weather conditions. They can support heavy loads of snow and withstand winds of up to 140 km/h.
In addition to rental options, Grandchamp offers custom-built solutions for clients wishing to purchase a tent: structure tents tailored to their specific needs, now anything is possible!
When the time comes to brave Mother Nature, Grandchamp is your best ally!

Want to discuss your project?