Confront Mother Nature with our winter structure tents.
Leader in tent rentals

Shipping and Installation
Shopping and installation

Our structures can withstand up to 80 KG of snow and winds up to 140 KPH
Our tents are all certified by an in-house engineer
More than 35 years of tent leasing experience
Custom design and manufacturing on request
Our tents are certified by an engineer in-house and delivered anywhere in North America.
Thousands of tents created and delivered in the last 35 years
In Montreal and Quebec, Grandchamp offers the rental of professional marquees. Whether it's for corporate, private or any other type of celebration, we have what you need!
Our wide selection of products, as well as our custom manufacturing service, will meet your needs.
Grandchamp Chapiteaux, robust and fully customizable marquees to meet all your needs and special events.
Whether it's setting up or taking down a tent, getting excavation information or for repairs, Grandchamp Chapiteaux is here to help.
IN THE FIELD FOR MORE THAN 35 YEARS
A company to count on
It was then that Grandchamp Structure tent Design was born. This company specializes in the manufacture of 4-season marquees. The company can therefore offer specialized and much more versatile marquees, while respecting its standards of efficiency and solidity.
For example, Grandchamp Structure Design manufactures the largest and strongest structure tents in North America.
Braving Mother Nature:
In addition, the company has been able to cope with the varied weather conditions of its North American region by designing tents that can withstand heavy snow loads and winds of 140 km.
Finally, in addition to rental, Grandchamp Structure Design offers a unique solution to all its customers who wish to buy a marquee. It offers the possibility of configuring the design of a structure tent adapted to their specific needs. Whether in terms of width, length, or even height, now everything is possible.
Since 1985
Grandchamp Structure Design has conceptualized and manufactured structural tents and canopies for several years. In this regard, it is essential for the company to be at the forefront of the market in order to push the boundaries. Since the R&D (research and development) team works in parallel with the production department, each tent product is constantly improving to meet the customer's needs. These improvements are also designed to be more efficient during installations.
When it comes to our innovations, we must first understand that all our structure tents are made with compatible and interchangeable parts. This is to say that they are modular. This allows a wide range of possibilities with as few parts as possible. In addition, the company has configured the "bolt-on" system, for attachment at any point on the aluminum structure, an innovation that embodies efficiency through simplicity. Finally, all structures are assembled with a single tool and a single bolt. Ultimately, at Grandchamp Structure Design, the improvement and development of structural tents is continuous.
In recent years, the company has invested several million dollars in innovation, including the purchase of major automation equipment and software that enables new production processes. In addition, training was provided to employees to update their knowledge. Finally, all of these internal corporate changes necessitated the expansion of our premises. Since these investments have made it possible to reorganize the production chain, the company has the opportunity to reinvent the processes already in place to push the boundaries of the market. This is why Grandchamp Structure Design sets itself apart from its competitors while remaining at the forefront of the structure tent market and establishing itself as a leader. This is also one of the reasons the company won the prestigious "Distinction" award in the manufacturing category.
A LEAN CULTURE
Our vision is to become and remain the largest rental, manufacturing and exporting company for structured marquees in Canada. To creatively meet all the challenges that will be presented to it, the company must necessarily have a solid foundation. This is why each employee adheres to a Lean management philosophy that facilitates dynamism and mutual aid between departments.
Whether in R&D, production or even installations, everyone in the company works together. The common objective: the constant search for improvement in relation to the product offered to customers, but also to their working environment. Lean management therefore becomes a way of structuring and standardizing the work of employees in order to improve efficiency on a daily basis. Thus, by working in a clean and well organized environment, the philosophy of Lean management enriches the motivation of the employees. They can now focus on the 4 essential values ​​of Grandchamp:
Innovation
Solidity
Efficiency
Professionalism
UGAR University Grandchamp at Repentigny.   


The only way to grow a business is to grow people first.

It is in this philosophy that we will therefore multiply our efforts for our employees and client partners, by giving us the training infrastructure and the means to innovate, be competitive, seize business opportunities and prosper. Ask our representatives for more information about our UGÀR program.
Tailored to your industry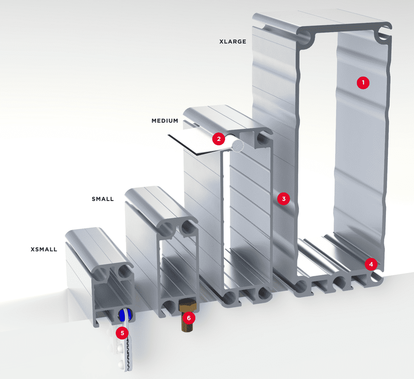 Mutually compatible models
3
Attachments available everywhere
6
The marquees are known to be the strongest on the market while having maximum security protecting against all weather conditions.
Our tents are designed, tested and certified to withstand heavy snow loads. They are perfectly adapted to our Canadian winters.
Traditional marquees are usually ideal for weddings. Indeed, with the added accessories of your choice, you can have these marquees give out a very rustic look.
We had the opportunity to participate in these projects!
Holding a truck with our tent for a show? We sure can do it! But has the road to get there been easy?

A major project, with tailor-made requests...in the dead of winter!

The Port of Montreal is the first official project where the XL beam was put to use.
Want to discuss your project?
Detail your needs in the quote request.
Repentigny
450, rue Saint-Paul
Repentigny, QC J5Z 0C8